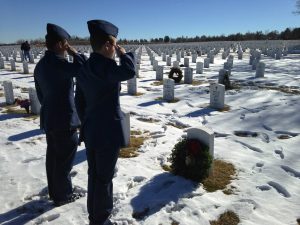 Each sponsored wreath costs $15   
Step 1:  To order online on our secure portal press here.
 (Skip step 2 if it does not apply)      
Step 2:  If you cannot be present on WAA Day December, 19, 2020  and wish someone to place the wreath(s) for you please, make a grave specific request at, WAA Home Page,
www.wreathsacrossamerica.org. 

Be sure to use our location I.D. COFLND and group I.D. CO0087P.  The Location Coordinator, Damon Henry, will have volunteers to place your wreath.  You may contact him at

damon75@gmail.com

for verification of your order.